Preparing to Purchase Your Home.
Congratulations on taking the first step to purchasing your first home! That's exciting!
Below are a few things to do prior going out and looking at homes: 
1. Speak to a mortgage representative and ask them the following questions:
- How much can I be approved to purchase?
- What will my monthly payments be?
- If I put less than 20% down, what will the CMHC fee's be?
- Should I take a variable, fixed rate, closed, open, 1yr, 3r, 5r mortgage?
Make sure you work with your mortgage representative to find the right plan and strategy for your long term needs.
TIPS BEFORE YOUR CREDIT CHECK:
- Pay off all the debts you can. Including visa, mastercard, student loans, etc.
2. Speak to a real estate professional/Realtor about your needs.
- What type of home are you looking for?
- How many bedrooms? bathrooms?
- Which location have you decided upon? or are you open to any location?
- Is this your first purchase?
When we first meet it will be a chance for us to get to know eachother and learn more about your needs then show you how I work and how you can benefit from it.


2. Making an Offer.
When it comes to making an offer, I will  provide a Comparative Market Analysis of recent comparable sales and local market trends. This information and analysis will guide us to an appropriate offer price and will assist you in drafting your offer.
I will communicate the offer, known as the Agreement of Purchase and Sale to the seller, or the seller's representative, on your behalf.  Sometimes there may be more than one offer on a property coming in at the same time, what is commonly known as Multiple Offers. As your Real Estate Professional, I can guide you through this process as well.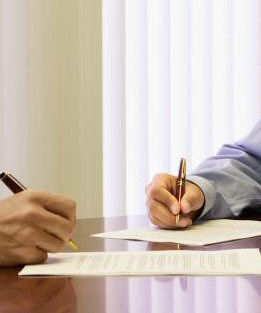 Conditional Offer to Purchase
A conditional offer means that you have placed one or more conditions on the purchase, such as "subject to home inspection", "subject to financing" or a "home inspection". The home is not sold until all the conditions have been met and satisfactory to you.
If your offer has been sold conditionally upon you obtaining a final confirmation approval by your mortgage representative then I will fax the Agreement of Purchase and Sale to that person.
If your offer has been sold conditionally upon you getting a home inspection then I can provide you with names to home inspectors. You can click on Affiliate Partners on the menu screen located on the left to this page. 


Firm Offer to Purchase
A firm offer is usually preferable to the seller, because it means that you are prepared to purchase the home without any conditions. If the offer is accepted then you have bought the home and will take possession on the closing date.
Acceptance of Offer
Your Offer to Purchase will be presented as soon as possible. The seller may accept the offer, reject it, or submit a counter-offer. The counter-offer may be in reference to the price, the closing date, or any number of variables. The offers can go back and forth until both parties have agreed or one of you ends the negotiations.


If you would like more information on making an offer, or more information on buying a home please do not hesitate to call 416-567-0477 or email me john@toliving.com at anytime.

There are six key elements of an offer to purchase real estate. 
Price
Depending on the local market conditions and information provided by me, your Real Estate Professional, the price you offer may be different from the seller's price.
Deposit 
Your deposit, or earnest money, shows good faith. This is an amount that you must have available at the time that you make an offer to purchase. As your buyer representative,  I can advise you on an appropriate amount. The deposit is normally paid by certified cheque or bank draft, made payable to the listing brokerage and must be provided within 24 hours upon acceptance. The cheque is deposited in the selling brokerage's trust account and will be applied against the purchase of the home when the sale closes.
Terms
Includes the total price offered and the financing details. You either arrange your own financing, or ask to assume the seller's mortgage, especially if it has an attractive interest rate. I work with a number of mortgage brokers, banks and trust companies. I will ask you about your financing early in the house buying process. It's crucial that you are pre-approved for a mortgage, so that you can move forward quickly when you find the property you want.
Conditions
These might include "subject to home inspection", or "subject to you obtaining financing".
Inclusions and Exclusions
These might include appliances and certain fixtures or decorative items, such as window coverings or mirrors. These items would remain in the house.
Closing or Possession Date
Generally, the day the title of the property is legally transferred and the transaction of funds finalized.


3. Your Offer Accepted! What's Next?
4. Prior to Closing Date (Which I like to call the Celebration Date!)


Title Insurance 
Are you planning to purchase real estate in Toronto? Do you already own a house, condo or townhome in Toronto? If you are thinking about buying, or even if you've owned your home for many years, it is important that you understand the principles of title insurance and why you should consider it to protect your property ownership.
Title insurance is growing in popularity in Canada. But what is it exactly? Should you get it? Do you need it? Whether title insurance is right for you is something you should discuss with your lawyer, as it depends on the circumstances of your transaction. This article will provide you with some background information about title insurance to help you make an informed decision.


Title to Property
Title is the legal term for ownership of property. Buyers want "good and marketable" title to a property - good title means title appropriate for the buyer's purposes; marketable title means title the buyer can convey to someone else. Prior to closing, public records are "searched" to determine the previous ownership of the property, as well as prior dealings related to it. The search might reveal, for example, existing mortgages, liens for outstanding taxes, utility charges, etc., registered against the property. At closing the buyer expects property that is free of such claims, so normally they must be cleared up before closing. For example, the seller's mortgage will be discharged and outstanding monetary expenses (such as taxes and utility charges) will be paid for (or adjusted for) at closing.
Sometimes problems (or defects) regarding title are not discovered before closing, or are not remedied before closing. Such defects can make the property less marketable when the buyer subsequently sells and, depending on the nature of the problem, can also cost money to remedy. For example, the survey might have failed to show that a dock and boathouse built on a river adjoining a vacation property was built without permission. The buyer of the property could be out-of-pocket if he is later forced to remove the dock and boathouse. Or, the property might have been conveyed to a previous owner fraudulently, in which case there is the risk that the real owner may come forward at some point and demand their rights with respect to the property.



Who is Protected With Title Insurance?
Title insurance policies can be issued in favour of a purchaser (on new/resale homes, condos and vacation properties), a lender, or both the purchaser and lender. Lenders will sometimes require title insurance as a condition of making the loan. Title insurance protects purchasers and/or lenders against loss or damage sustained if a claim that is covered under the terms of the policy is made.
Types of risks that are usually covered under a title insurance policy include: survey irregularities; forced removal of existing structures; claims due to fraud, forgery or duress; unregistered easements and rights of-way; lack of pedestrian or vehicular access to the property; work orders; zoning and set back non-compliance or deficiencies; etc. For a risk to be covered, generally it has to have existed as of the date of the policy. As with any type of insurance policy, certain types of risks might not be covered, for example, native land claims and environmental hazards are normally excluded. Be sure to discuss with your lawyer what risks are covered and what are excluded.
The insured purchaser is indemnified for actual loss of damage sustained up to the amount of the policy, which is based on the purchase price. As well, some policies have inflation coverage, which means that if the fair market value of the property increases, the policy amount will also increase (up to a set maximum).